<![if !vml]>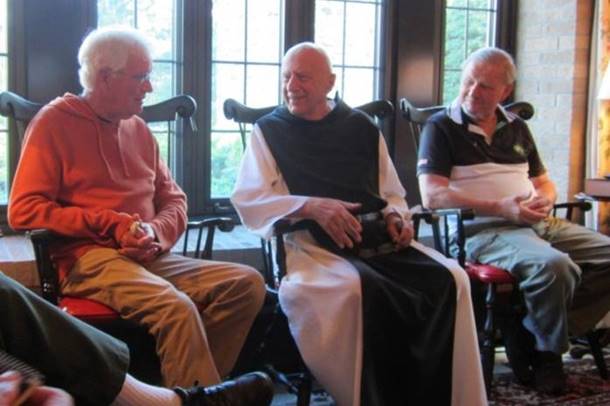 <![endif]>       

Why would a person in the modern world limit themselves to pursue such a focused lifestyle ?
It's been said that in order to become a Master, world class in any field, one needs 10,000 hours of deliberate practice. That would be 3 hours a day for 3,333 days--a little over 9 years ! And then you spend the rest of your life using these acquired abilities.
If we're scheduled for surgery, we're looking for the best doctor. We're not looking for someone who does it in their spare time on the weekends.
What gifts are we given, born with ? It's the school athlete that goes on to the pros, the gifted child pianist, talents in science, business, the arts, communication, math, someone aware of a God-given natural gift. Each of us making sacrifices to pursue the highest level of competence, not keeping it to ourselves, but using it for the benefit of others. (Matt 25: 14-30)
For a Monk, spending 14 hours a day "practicing" with 7 hours to sleep and 3 for meals and personal time, about 2 years, is the time
the Novitiate (apprenticeship) takes. Only then, through additional years of experience can you be thoroughly available at a more effective level.
for everyone, whether on a personal level, and / or by one's example and witness as member of a monastic community in the world.
Using our God-given gifts and talents, it's the willing sacrifice and expenditure of time for the benefit of others. Not self-centered or an escape, but a dedicated life in availability, service. (Heb 5: 12-14, Eph 4: 11-12, 1 Corinthians 12: 27-31)
<![if !supportLists]>1. <![endif]>Trappistine Sisters, Wrentham, MA – video 4 minutes
<![if !supportLists]>2. <![endif]>A Day In The Life – At St. Joseph's Abbey – video – 5 minutes
Although the Brewery has closed operation, this provides a nice
insight into a typical day
<![if !supportLineBreakNewLine]>
<![endif]>
<![if !supportLists]>3. <![endif]>A Monk's Life – video -  6 minutes
<![if !supportLineBreakNewLine]>
<![endif]>
<![if !supportLists]>4. <![endif]>The Cheese-Making Nun – Abbey of Regina Laudis, Bethlehem, CT

Mother Noella Marcellino Ph.D., is a Benedictine nun of the Abbey of Regina Laudis in Bethlehem, CT, a contemplative Benedictine community dedicated to the praise of God through prayer, hospitality, and stewardship of their land.
She received her doctorate in Microbiology in the Department of Molecular and Cell Biology at the University of Connecticut. With the aid of a Fulbright Scholarship to France in 1994, and a subsequent three-year fellowship from the Institut National de la Recherche Agronomique (INRA), she traveled 30,000 km through traditional cheese-making regions collecting native strains of the yeast-like fungus Geotrichum candidum to assess its biochemical and genetic diversity. A documentary film about this journey, The Cheese Nun: Sister Noëlla's Voyage of Discovery, produced by the Paris American Television Company, has been shown in film festivals and aired nationally on PBS Television in 2006.